Tuesday, January 11th, was a special moment for the Pilot team and the LaPlace community as we celebrated the completion of a complete remodel of the LaPlace travel center with a ribbon cutting ceremony and donation to the local school district.
The Stakes Were High
The Category 4 hurricane swept through the town on August 29 and caused massive destruction to a majority of its structures, including the Pilot Travel Center off Main Street. It sent 157 mph gushing winds through the store, flooding the building with almost two feet of water and setting seven 18-wheelers on fire in the back parking lot.
"I ran this store for over 14 years prior to this happening," Doug Hallmark, Pilot Company Regional Manager, said. "This was the worst I'd ever seen the store in my life."
Sludge, debris and mud coated the store's interior, and massive flooding throughout the city and I-51 prevented General Manager Eric Hitchens and his team members from being able to reach the travel center for over a week.
"It was complete destruction out here," Eric relayed. "You could count the people who didn't get any damage on one hand."
There were pond-like roads and major power outages, but that didn't stop Eric Hitchens from doing the impossible – re-opening operations less than two months after the hurricane.
"Our priority was to get things back up and running operationally," Eric said. "We did whatever it took to help the community return to some type of normalcy."
Rising To The Challenge
The Pilot Travel Center was one of the very first stores to open back up in this area after the hurricane. In fact, we were the first on our side of the street to resume operations post-hurricane.
Eric and his team worked closely with the construction, maintenance, and retail merchandising crews to kick off the re-modeling process and assess what actions were needed to make this store even better than before. They cleaned up debris, replaced shelving and hooked up generators to start.
In the month between the hurricane and re-opening, we made sure all team members were paid and taken care of, housing those whose homes had been destroyed by the storm.
"They really took care of us," said Stacy Locascio, a Pilot Team Member who was without power for 19 days.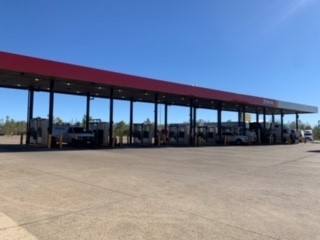 A Complete Store Overhaul
Going beyond the initial opening repairs and clean up, we kicked off a major upgrade of the store to make it an even better place for our team members to work and our guests to shop. This overhaul included things like upgrading plumbing, new tiling, expanded amenities, a public laundry update, installing high-speed pumps and advanced technology to improve the overall guest experience.
"We've made some major strides when it comes to the overall appearance and maintenance side of the store," Eric said. "The whole entire front-end has four self-checkouts now, which we didn't have before. That's a big win."
Pilot Gives Back To The Community
Giving back has been part of our DNA since our founder, Jim Haslam II, started Pilot back in 1958. We couldn't think of a better way to commemorate the completion of this project than by helping our neighbors, friends and families with a $5,000 donation to St. John the Baptist Parish Schools. The $5,000 donation will help one of the nearby schools – still closed and unable to hold in-person classes due to the hurricane damage – with things like instructional software, academic initiatives, air pods, supplemental materials and student academic field trips to make virtual learning a little easier for students and teachers.
"We want to continue to grow, impact, and be the place people want to shop at that's clean, efficient, and simply doing what we're supposed to do with friendly service," Eric Hitchens said. "We want to be the business that people look forward to coming to and give them an experience that leaves them happy and fulfilled."